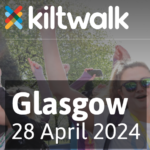 The date for the Glasgow Kiltwalk has been announced as Sunday 28th April 2024, we are targetting 11am start time. This year Provincial Grand Master Andrew Millar, for those willing to participate he would again like to extend a invitation to family aand friends to the 3 mile Wee Wander, this is a low effort walk for families & friends and ends at the finishing line at Balloch Country Park with all getting their cherished Kiltwalk medal.
As with previous years CHAS have kindly given us a limited number of free registrations places to allow those participating to focus on the charity fundraising, if you can complete the online registration process SPGM Colin Campbell & Auditor Kenny Wilson will take care of the registration process
We would urge everyone to register as soon as possible as last years sold out really quickly, we will  tag everyone onto the PGL team for collective fundraising to CHAS and also order the coveted CHAS Tech T-Shirt for all those on the PGL Team. Anyone who wants to participate in the 14 or 26 mile walks are most welcome and we can offer the same free registation place.
Let's smash this once again for a great Charity and get trianing to improve on your overall fitness, health and wellbeing 🏋️‍♀️🤸‍♂️💪👟